What do our graduates do after finishing their Harvard Mass. General Med-Peds training?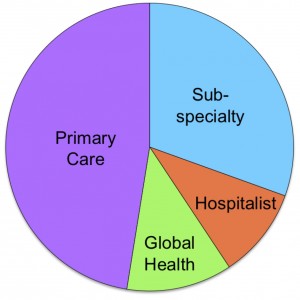 Consistent with national med-peds trends, about half of our graduates go into careers in primary care. (Interestingly, about 20% of our graduates who go into primary care work for the Indian Health Service for at least part of their career.)  Approximately 30% choose subspecialty fellowships, and about 10% go on to work in Global Health and as Hospitalists, respectively. In true med-peds fashion, many of our graduates have careers that span multiple traditional categories (such as working part-time as a hospitalist and part-time as a researcher in Quality and Safety).  A more detailed list of our alumni  and their career paths is given to applicants during their interview day.
For our most recent alumni newsletter, click here.
For a list of publications from our alumni from April 2015-March 2016 click here.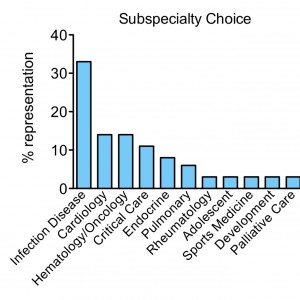 The most popular subspecialty choice for our residents is infectious disease (likely paralleling the high incidence of global health interest), followed by cardiology, heme/onc, critical care, and a variety of other specialties.
We asked some of our recent graduates to comment on the ways their Harvard Mass. General Med-Peds training prepared them for their careers; their responses are below. You can also view our more extensive list of alumni by clicking here.
Ashley Lamb, Class of 2011
Working in rural North Carolina, practicing primary care at a National Health Service Corps site
"When I arrived in rural North Carolina from MGH I felt like a fish out of water at first, but it didn't take long for me to realize that I was prepared to do my job as a full time primary care doctor in a medically underserved area. I have utilized my exposure at MGH to everything from premies to nonagenarians, from the straight forward common cold to rare congenital diseases to develop a great panel of patients who run the gammut. As a med/peds provider the local pediatricians have been eager to refer their complex patients to me as they age out of pediatrics, and similarly, many adult specialists in the area have referred patients to me who were too complex for the local family physicians and with my MGH experience I have felt comfortable in this role. In addition, at MGH I learned about primary care at a high quality clinic that used LEAN quality improvement methods and I was able to participate in a community medicine rotation. Both of those experiences helped me feel comfortable helping my office and our community make some tangible improvements since I arrived including setting pediatric standards for the nursing staff (such as weighing babies naked and taking shoes off to measure), establishing and running a Reach Out and Read program, and helping instigate a no-show policy for the clinic. "
Diana Lemly, Class of 2012
Completed an Adolescent Medicine Fellowship at Children's Hospital Boston
"One of the many things that is so wonderful about the MGH Med-Peds residency is that you are truly prepared to do any fellowship in pediatrics or adult medicine (and even ones that don't exist yet)! There is tremendous support to create combined (med-peds) fellowship opportunities or mold existing programs to fit your specific interests. Pretty much anything and everything exists within the Harvard/Partners system and the program helps you make the most use of these resources, even during a busy residency. I decided somewhat late in residency to do a fellowship, but had tremendous support from the administration to craft a successful application. It is very special being part of a program that has access to everything, but is still a small, close-knit family."
Raquel Reyes, Class of 2012
First job after graduation: Uganda Site Director for the MGH Center for Global Primary Care
"I feel privileged to have been a part of the MGH Med Peds family. I chose a combined residency in Internal Medicine and Pediatrics because of my commitment to serve women and children at home and abroad. In my current position, I attend on the internal medicine and pediatrics wards at a regional referral hospital, and care for adults and children at a level three health center in a small village. Most of the resident physicians I supervise there are Internal Medicine trainees, but most of the patients are children. My Med-Peds training allows me to care for everyone and be able to help other providers care for everyone, too. I chose MGH because I wanted a rigorous clinical training experience. At MGH, I received the kind of training I now need to practice as a competent and confident clinician and clinician educator in a resource-poor setting. Because MGH is so committed to Global Health, not only were there many mentors to provide advice, guidance, and connections, but I was also able to pursue clinical experiences in international settings in each of my final three years of residency. Such clinical experiences helped prepare me for the kind of challenges I now manage in my current role."
Nina Mayer and Eric Ritchie, both Class of 2012
Working in Chinle, NM, for the Indian Health Service
"Training at MGH gave us the opportunity to be surrounded by amazing colleagues with a variety of experiences and backgrounds, some of whom have worked with Indian Health Services. This allowed us to make contacts with several IHS sites and eventually complete elective rotations on both the Zuni and Navajo Reservations during our residency, which confirmed our interest in providing rural med-peds primary care to the underserved.  After graduating, we joined the IHS as medical officers and currently work at the Chinle Comprehensive Health Center in the middle of the Navajo Reservation.  Working in Chinle is a very unique experience where we have the opportunity to practice both adult and pediatric inpatient and outpatient care in a resource poor setting.  Looking back, our med-peds training, especially at the community hospitals and health centers outside of Boston, helped prepare us for the autonomy that would be required for providing medical care in an extremely remote area."